Register as Supplier
Register an account
The first step to become a supplier on Winedering.com is to create an account, with a username, a password and an email. You'll receive an email to activate your account.

Create an Account
Create a Supplier Account
Once your account will be active, you'll have access to the supplier registration interface.
Please click on the button below if you'll not reach it directly from the email.
Login to the Control Panel
To access your control panel, you should just login to your account and then click the "control panel" link on the menu.
Use the control panel
Through your control panel you can manage:
Information about your company (mail, address, vat, mobile phone...)

Bookings

Payment accounts
Udpate Supplier Data
To update data about your company, like name, address, vat number, phone number or email, you just need to login (see instructions up above), access the control panel and click on "Supplier Profile" under the "Supplier Area" menu on the left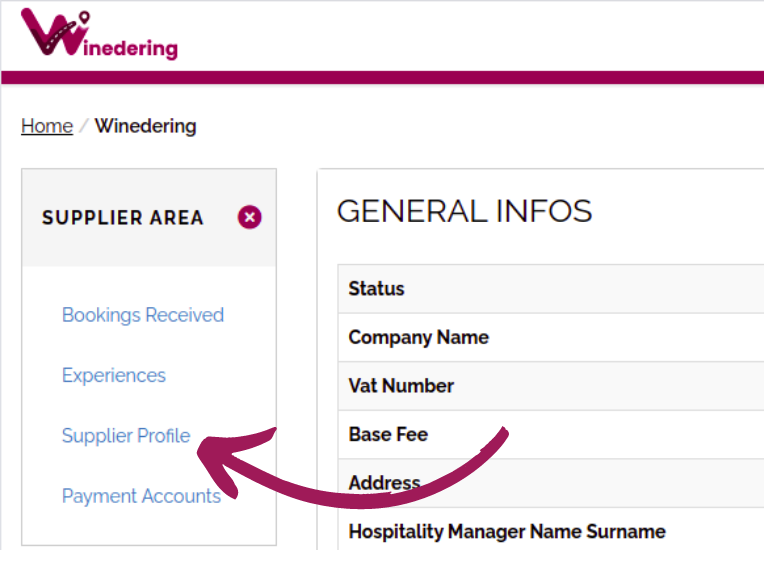 Create a Winery Listing
If you registered an account, even if you are not a supplier, and you are a Winery, you can register a free listing for your winery on Winedering.com.
Once registered on Winedering.com (check here) or make sure you are logged in.

Go to the "winery registration page" clicking this link

Follow the instructions on the page.
Then write part of the name of your winery and check if it already exists.
If it already exists, click on the search result and follow the instructions. On the other hand, if the search does not produce any results, you can create a new winery to list.