How to improve my visibility on Winedering.com?
To improve your visibility on Winedering.com is pretty "easy". Winedering ranks experiences in function of these parameters (in order of importance):
Number of completed bookings (highest priority)

Number of reviews (highest priority)

Average rating of reviews (high priority)

Experiences with food (high priority)

Sunday and/or Saturday availability (high priority)

Calendar availability in terms of months, days and hours slots (medium priority)

Number of images (medium priority)

You have a mobile phone number on your supplier profile (high priority)

Booking cancellation limit minor of 2 days (low priority)

Minimum pax not more than 2 (low priority)
So, the most important things you should do are to cure your experiences quality (include food, full calendar availability, quality images) and, once done, drive your online customers to your winery page on winedering.com to collect as much bookings as you can.
Then, we will take care to collect as much reviews as we can.
How to get More Bookings
Base principle: to have more bookings you must be more visible, but to be more visible you must collect more bookings, cause bookings collected are one of the most important ranking factors. How to solve this dilemma?

To push your experiences higher, we recommend to work on experience's quality (see the previous paragraph) and to increase direct bookings.
What this means? Put a button on your Website that links to a specific experience or to your winery page (if you manage a winery).
Your users will book directly from Winedering, which, for you, translates into 3 huge benefits:
You increase bookings and, as a consequence, your visibility.

You increase the chance of receiving reviews which, as written above, increasing your visibility and the likelihood of receiving new bookings

You can manage bookings more easily through your control panel on winedering.com and receive only prepaid bookings, zeroing out the "No Show" issue!
To refer visitors from your website to Winedering.com, simply place a button or a link to your winery page or one of your experiences on your "Home Page or your "Wine Tourism" page...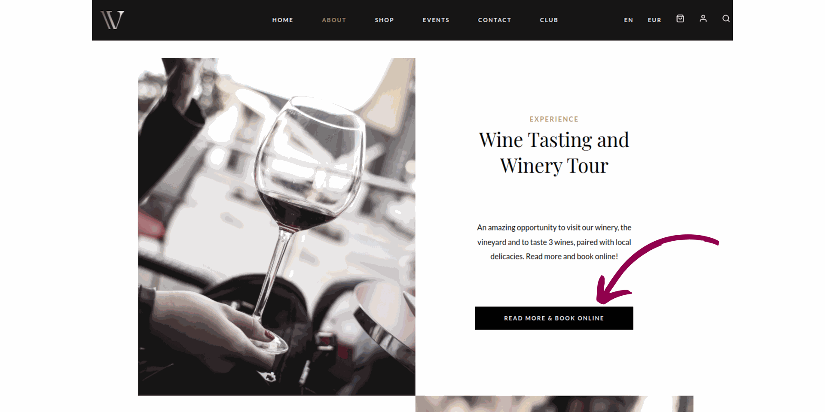 You should also add the button wherever in your website your users could be interested to click and rapidly book a visit online, like the contact page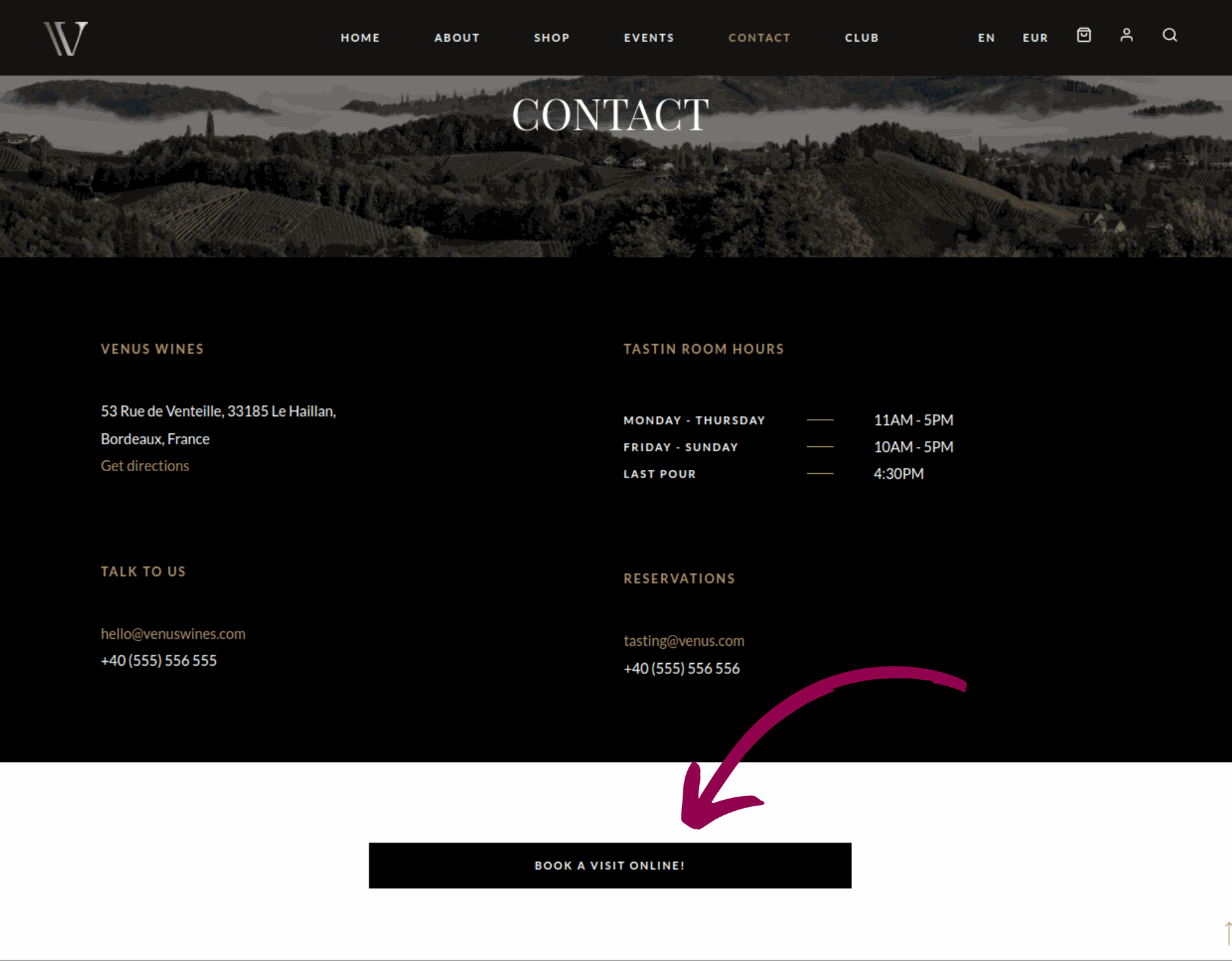 It will be enough to copy and paste the url of your experience/page on winedering.com. Don't forget to copy/paste different version of the url in function of the language of your website, so, for example, copy/paste the your winedering.com experience's page in italian and in english if your website has italian and english version.
It is also helpful to place our "Approved By Winedering" badge anywhere you want on your Website.
Our badge reinforces the credibility of your brand and increases trust in the eyes of the user.
Placing it in the footer allows you to refer the users to your page on Winedering.com, where they can read reviews and book your online experiences.
Follow the instructions in the section "Embed the badge 'Approved By Winedering'" to implement it on your Website.

Embed the Badge 'Approved By Winedering"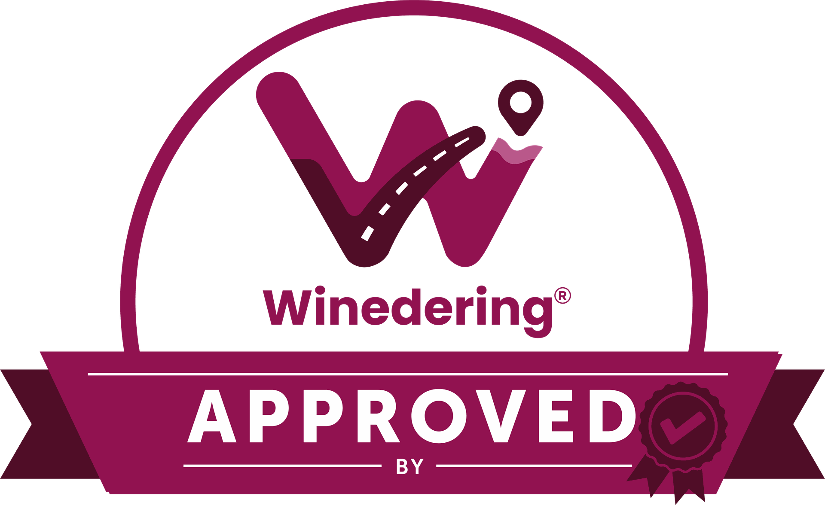 Embedding our badge on your Website reinforces the credibility of your brand and increases trust in the eyes of the user.
To embed our badge on your website, simply login into your control panel, and go to the "Marketing" page clicking the link on the left menù. At this point, just copy/paste the code on your website.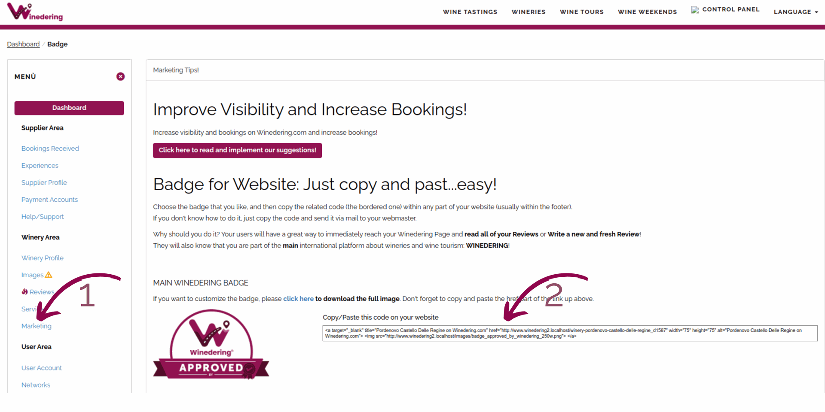 Take care of your Photos!
Images, along with reviews, are the most important tool for being able to strike a chord with a user, especially for anyone who wants to sell wine tourism experiences online.
When posting an image, always put yourself from the user's point of view: what would they like to see? What would strike them? If you are trying to sell a wine tasting, you need to make at least all the following elements involved:
Environment: the Wine Traveler, often, finds in the wine tasting a moment of relaxation, of peace, of absolute tranquility.
Show her what you are able to offer: the outside environment of your winery, perhaps at sunset or in equally "emotional" circumstances, images from above the place where tastings are usually held or, if inside, photos with soft and elegant lighting.

People: If your customers consent, photograph them during a tasting, tour or event. There is no better way to humanize a wine experience: the online user, in addition to feeling reassured ("others have already done it, I can trust... "), immediately understands that other real customers have already relied on you and that, in doing so, they really enjoyed it!

Wine: one or more photos of a glass with your wine inside, accompanied by an adhoc outline, such as an elegantly laid table, any related food products, other objects or classy details...

Food: highlight it! If you offer great and vary food, don't underestimate the huge value it adds to the wine experience.
Below we provide a list of suggestions that we believe are very important:
Do not use blurred photos or photos taken with outdated smartphones

Do not use photos in poor lighting conditions without proper equipment

Always rely on professionals. It is not necessary to take 1000 photos per month. A good photo book, taken maybe once a year or more, is a safe investment and often reusable: on Winedering, on your website, in brochures, in shop windows, in advertising

If you have adequate equipment, talent and passion for photography, then you can even bypass a professional. However, it's important to respect the constraints exposed by Winedering and, above all, to take photos of great quality and formal value.

If it wasn't clear yet, we'll repeat it again: images are crucial for your online success, never forget that.

Avoid banal photos. We often find ourselves seeing photos of bunches of grapes, vine leaves or generic vines decontextualized. Never post these photos! A bunch of grapes is present in your vineyard as it is in thousands of others around the world. Your tasting room, or the hills around your winery, will certainly be unique, that's exactly what you should be showing: the elements that make your winery unique!

These suggestions are coupled, on Winedering, with some guidelines that you will have to follow.
On Winedering, in fact, in addition to the prescriptions imposed during the insertion of your experiences, photos of poor quality, both technical and formal, are excluded.
If you provide 10 very high resolution images, but taken with a passive and decontextualized subject, such as a barrel or a glass of wine without a specific context, this will lead the Winedering team to discard them immediately.
Below are some examples of photos received by our team, with our considerations and the judgment that we have given. Take them as a reference when you decide to take them with your trusted photographer or, once taken, to publish them.